Wednesday's announcement by the Federal Reserve that they were going to lower the benchmark fed funds rate, the interest rate banks charge when they borrow overnight from each other which anchors all other rates across the economy, by one quarter of one percent, wasn't unexpected.
For the most part, it was totally expected.
The problem that comes to light is that most analysts, me included, expected the 25-basis point cut, as did most investors, and still markets sold off.
That's because the equity markets wanted a 50-basis point cut (one half of one percent), not a 25-basis point cut.
Of course, the Fed took notice of the selloff and will cut again, as soon as September, if markets continue like crybabies and hold their breath (turning red with losses) long enough or deep enough.
All this is proof the Federal Reserve is dangerously out of control, and markets are their true masters.
Here's why and how dangerous the Fed is, why markets matter so much to them, and, more importantly, what's going to happen when the game of extend and pretend ends…
Fed Dances the New Normal Jig
It's not normal for free markets to have to hang on to every word the Federal Reserve chairman says about the U.S. economy, about global growth, about interest rates, and about the direction of stock markets.
But the new normal is we don't have free markets.
In the new normal, which isn't all that new, the Fed manipulates the economy and equity markets as best as it can, by exploiting interest rates and investors' perception about how the Fed will react to what the economy might do or what stocks do or might do.
After the FOMC's (Federal Reserve Open Market Committee) two-day meeting on Tuesday and Wednesday and its announcement it was cutting the benchmark fed funds rate one quarter of one percent, Fed Chairman Jerome Powell said officials weren't ruling out additional rate reductions, but neither did they view Wednesday's cut as "the beginning of a long series of rate cuts."
"You would do that if you saw real economic weakness…. That's not what we're seeing," he said.
Chairman Powell instead framed the benchmark cut to between 2% and 2.25% as a "mid-cycle adjustment."
Markets didn't like that language and proceeded to selloff.
It didn't matter that the Fed offered going to "continue to monitor the implications of incoming information for the economic outlook and act as appropriate to sustain the expansion."
A 25-basis point cut wasn't enough to bring sidelined investors back into the market and lift equity prices.
One thing that worried investors was that eight of ten Fed officials on the FOMC voted in favor of the move, while two officials dissented from the decision in favor of holding rates steady.
Boston Fed President Eric Rosengren and Kansas City Fed President Esther George dissented from the decision. Both were among a group of Fed officials who had said recently they didn't see a strong case for cutting interest rates because U.S. economic data has been good.
The decision not being unanimous to cut rates struck fear in equity markets.
The selling Wednesday was broad and decisive, as in a statement of the market's dissatisfaction with a 25-point cut and dissention among the ranks.
Immediately, as stocks were falling, talk began that the Fed would have to cut again in September to appease investors' fear that stock prices would continue to sink.
There's been zero change in how investors view the economy. Nothing happened in less than 12 hours since the Fed cut, and markets sold off.
---
No More Stocks. No More Stock Options. No More Stress.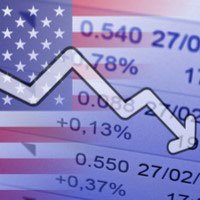 I'm done with stocks. They're unreliable, unpredictable, and uncontrollable. Do you agree? If so, I'd like to tell you about a new way to make money (up to $11,000 a week) without touching a single stock (or stock option) again. It's like nothing you've ever seen. Watch now.
---
One day later on Thursday, stocks rallied on renewed perception that the Fed would have to cut in September.
Why? Because the Fed heard the markets loud and clear and everyone knows the Fed's new mandate is to manipulate markets higher without pretense.
Manipulating rates used to be about maintaining "stable prices," which is imbedded in the Fed's charter. The Fed got another mandate in the early 1970s, courtesy of Congress, to "foster full employment." They got that pass to manipulate rates lower when politicians were getting blamed for stagflation and debilitatingly high unemployment.
Politicians punted to the Fed, so they wouldn't be blamed for the country's economic mess.
But that latitude to manipulate rates always lower when it sees fit to lower them wasn't enough for the Fed.
The Fed wanted to announce that they were giving another official mandate to lower rates and to jack up equity markets.
All the Fed needed was the right time to make their announcement, without having to announce it.
It got that opportunity in December last year.
On the heels of equities falling almost 20% as the Fed raised rates in an attempt to "normalize" them.
The Fed realized that it was the perfect time to double back on rate raises and announce their third mandate in order to manipulate markets higher at any time when they looked like they were selling off.
That's the power the Fed has – the power Congress gave it and the power they gave themselves.
It's all good until it isn't.
The Fed's been manipulating rates so low for so long that they've tied the future of equity markets to their pronouncements and to the perception that they won't let markets fall too far or too fast.
So we don't have free markets anymore.
We don't have an economy or markets that ebb and flow based on price discovery, on actual supply and demand, and on real world cyclical expansions and contractions.
The economy and markets are almost 100% manipulated by the Federal Reserve.
But they can't manipulate reality in the final analysis.
Next week I'll tell you what's going to happen eventually.
And believe me, you'll be afraid.
Sincerely,
Shah